Dog lovers, rejoice! You can treat your loyal companion to an outing for breakfast, lunch, or dinner and have them join you at the table while you enjoy a meal together. Yes, you read that right!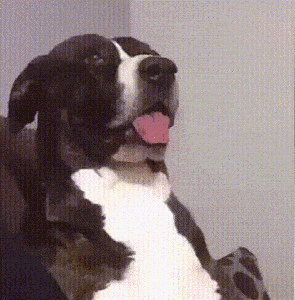 Gone are the days of having to tie up your dog outside while you enjoy a delicious meal, and having to look out the window at their sad eyes longing to come in and sit with you.
Hamilton is home to two cafés that were started specifically to provide you a welcome place to bring your dogs while enjoying food not only for you, but for your four-legged friend as well! They allow you to bring your dog in with you to sit with you at your table and hangout while you enjoy your meal or drink, and they also serve treats for your pets as well so they can dine with you.
This is great if you want to bring your dog on a date night, a get together with friends, or simply a chance to meeting new people and making new friends while spending quality time with your beloved furry companion!
Time to go on a doggy date!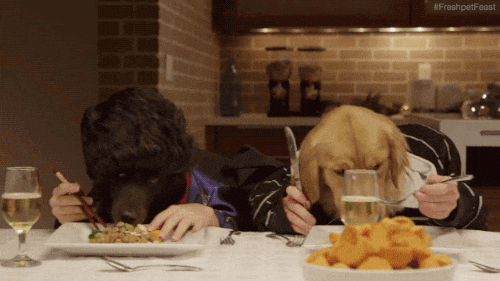 My Dog's Café and Bar
Located at 229 Locke St S. in Hamilton, My Dog's is a dog friendly café and bar located on Locke Street that welcomes customers to bring their dogs to eat not only on their beautiful patio, but inside as well. They're proud to offer a place for you, your fur baby, and anyone else who is curious and loves being around dogs.
Their menu consists of delicious baked goods, coffee, tea, hot chocolate, and healthy smoothies.
You can reach them at (905) 570-0770 or visit their website.
Their hours of operation are:
Monday CLOSED
Tuesday noon – 5pm
Wednesday 11am – 5pm
Thursday 11am – 6pm
Friday 11am – 6pm
Saturday 10am – 6pm
Sunday 10am – 5pm
Munchies Coffee House and BARKery
Located at 1000 Upper Gage Ave (Unit #4) in Hamilton, Munchies serves healthy and indulgent food for both humans and dogs. For humans, they serve breakfast, lunch, and dinner as well as have Fair Trade Organic coffees and 12 different types of tea. They bake a variety of dog treats for your canine friend which are homemade, fresh, and healthy. You can also get your dog a doggie birthday cake that they called a "RUFF-CAKE" in apple cinnamon, Yam-Yum, pumpkin or carrot flavours. Everything is made with all natural, organic, human grade ingredients and zero preservatives or by-products. They also specialize in Vegan, Vegetarian, and Wheat Free snacks.
You can reach them at (905)-389-6067 or visit their website.
Their hours of operation:
Monday to Friday: 10am – 4pm
Saturday: 10am – 6pm
Sunday: 10am – 3pm
Bring Your Dog Cafe & Pub
Located at 9 Richwill Road in Hamilton, this new establishment is run by local Hamiltonians Jim and Judy. They have an energetic Hound-Shepherd puppy that loves meeting new people.
Open 7 days a week, "Bring Your Dog Cafe & Pub" offers fresh-baked pastries each day. Their menu features delicious fresh coffee and drinks, bagels and muffins, home-style chili, and fresh-shaved deli sandwiches.
When you enter, you'll notice they have a large entrance area with a unique, custom-built 20-foot dog house bench, plus an option to sit in a raised dining area (so your four-legged "mooches" aren't going to steal a bite of your sandwich when you're distracted) or a lower dining area if you prefer.
Your furry companion is welcome to roam leash-free throughout the cafe, even in the washrooms which were designed to accommodate pets.
Learn more by visiting their website and Facebook Group. You can reach Jim at (905) 512-3720.
---
And now, some adorable photos of dogs enjoying their doggie dates!
© 2018 Corus Radio, a division of Corus Entertainment Inc.