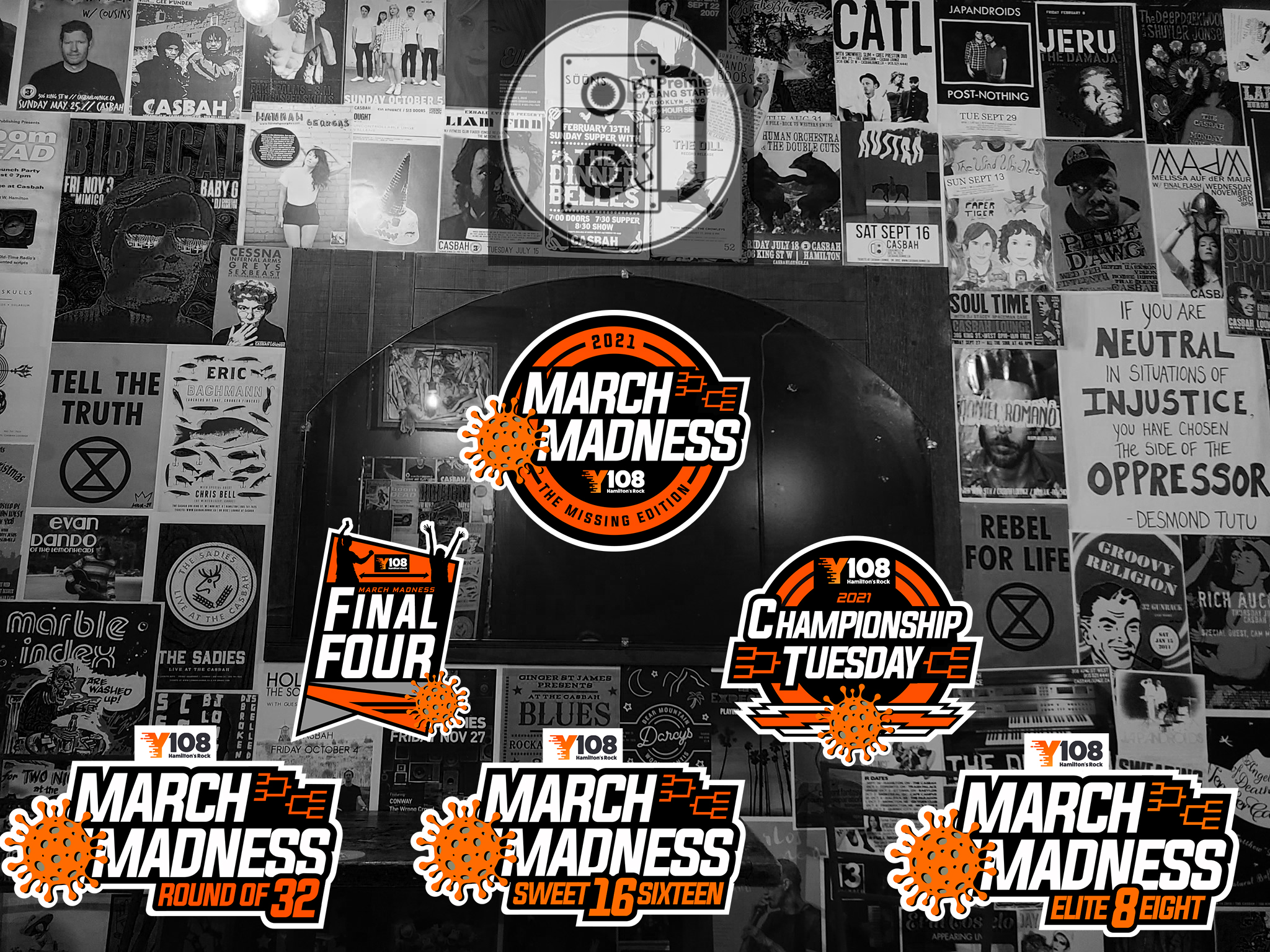 17 DAYS – YOUR VOTES – 1 WINNER
The longest March ever is Madness.
What were you pining for during the pandemic?
What were you missing the most during the lockdown?
No colour-coded framework will stop you and your votes.
It's the March Madness of Hamilton – The Missing Edition.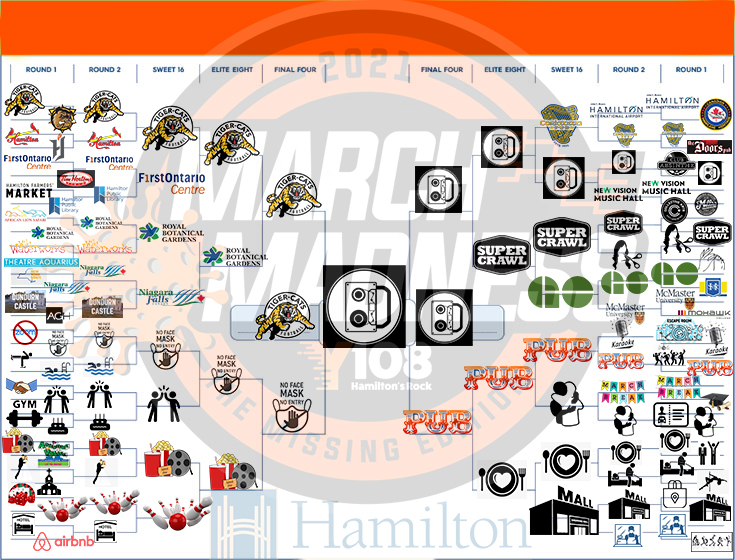 ZOOM IN, PRINT IT OUT, AND FOLLOW ALONG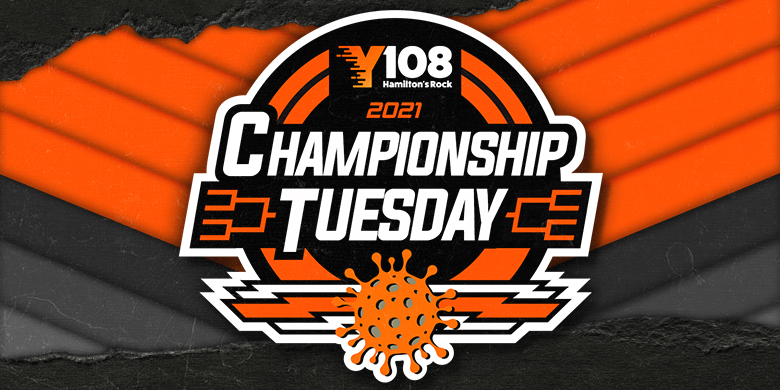 Tuesday, April 6th, 2021
The Casbah 84.68% Hamilton Tiger-Cats 15.32%
Easter Monday 2021
Hamilton Tiger-Cats 53% Not Having to Wear a Mask 47%
The Casbah 71% Drinking at a Pub 29%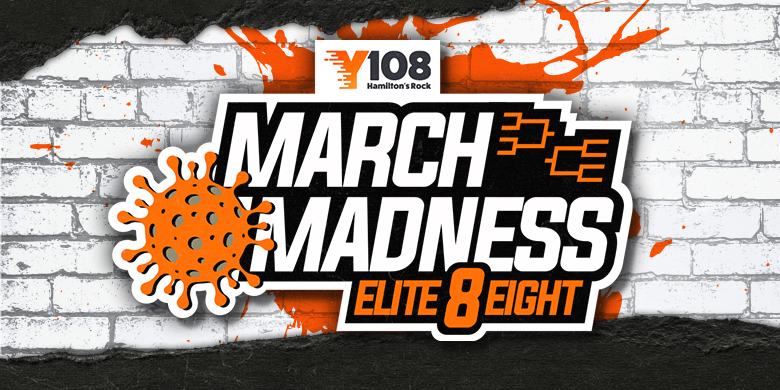 Saturday, April 3rd, 2021
OVERTIME
Hamilton Tiger-Cats 53% Royal Botanical Gardens 47%
Good Friday 2021
Not Having to Wear a Mask 70% Going to the Movies 30%
The Casbah 63% Supercrawl 37%
Drinking at a Pub 71% Dining Out 29%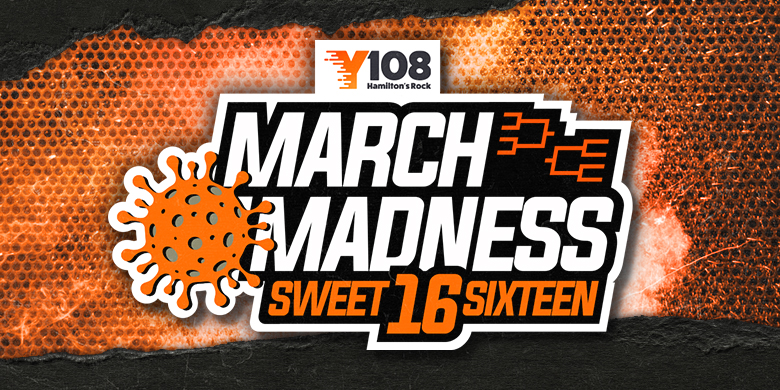 April Fools' Day 2021
Hamilton Tiger-Cats 56% FirstOntario Centre 44%
Royal Botanical Gardens 63% Niagara Falls 37%
Not Having to Wear a Mask 85% High Five 15%
Going to the Movies 62% Bowling 38%
Wednesday, March 31st, 2021
The Casbah 54% The Corktown Pub 46%
Supercrawl 85% GO Transit 15%
Drinking at a Pub 54% Hugging 46%
Dining Out 93% Going to the Mall 7%
OVERTIME
Royal Botanical Gardens 59% Wild Waterworks 41%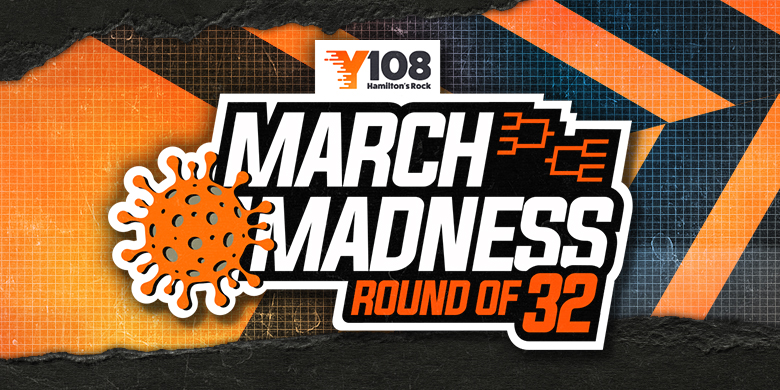 Tuesday, March 30th, 2021
Going to the Movies 90% Attending a Wedding 10%
The Corktown Pub 82% John C. Munro Hamilton International Airport 18%
Shopping at a Mall 70% No More Plexiglass 30%
OVERTIME
GO Transit 62% McMaster University 38%
Monday, March 29th, 2021
Hugging 75% March Break 25%
Not Having to Wear a Mask 83% Swimming 17%
FirstOntario Place 77% Hamilton Public Library 23%
Friday, March 26th, 2021
Niagara Falls 86% Dundurn Castle 14%
High Five 71% Blowing Out a Birthday Cake 29%
The Casbah 67% New Vision Music Hall 33%
Drinking at the Pub 100% Karaoke 0%
Thursday, March 25th, 2021
Hamilton Tiger-Cats 58% Hamilton Cardinals 42%
Bowling 80% Staying at a Hotel 20%
Supercrawl 62% Hair Salon 38%
Dining Out 71% Hooking Up 29%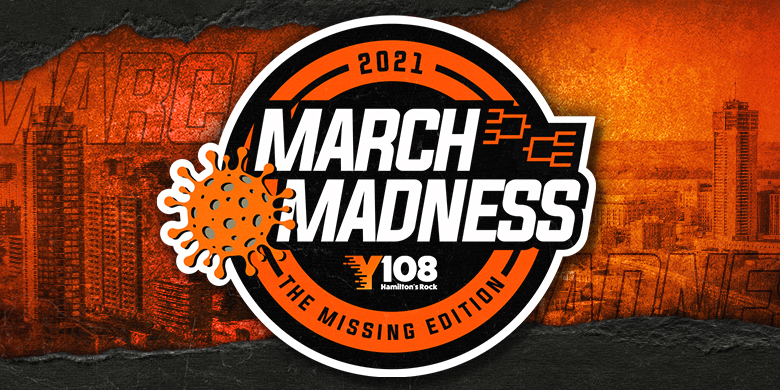 Wednesday, March 24th, 2021
Niagara Falls 78% Driving to New York State 22%
Going to the Movies 78% Adventure Village 22%
Corktown Pub 88% Doors Pub: Taco Joint and Metal Bar 12%
Karaoke 63% Escape Rooms 37%
Tuesday, March 23rd, 2021
Hamilton Public Library 58% Hamilton Farmers' Market 42%
Blowing Out a Birthday Cake 91% Going to the Gym 9%
Hair Salon 58% Manicure and Pedicure 42%
Eating Out 83% Dressing Up 17%
Monday, March 22nd, 2021
Wild Waterworks 73% Theatre Aquarius 27%
Swimming 55% Indoor Rinks 45%
The Casbah 70% Absinthe Hamilton 30%
No More Plexiglass Partitions 73% Parades 27%
Friday, March 19th, 2021
March Break 73% Graduation 27%
GO Transit 55% HSR 45%
Bowling 82% Casino 18%
Hamilton Cardinals 58% Forge FC 42%
Thursday, March 18th, 2021
Hooking Up 89% Exotic Dancers 11%
Royal Botanical Gardens 67% African Lion Safari 33%
Attending Weddings 91% Attending Church 9%
Supercrawl 55% Collective Arts Brewing 45%
St. Patrick's Day 2021
McMaster University 67% Mohawk College 33%
Hugging 70% Drivers Test 30%
Dundurn Castle 56% Art Gallery of Hamilton 44%
Not Having to Wear a Mask 80% No More Zoom Meetings 20%
Tuesday, March 16th, 2021
Hotel 85% Airbnb 15%
New Vision Music Hall 53% Mills Hardware 47%
Mall 54% Local Business 46%
First Ontario Centre 64% Tim Hortons Field 36%
Monday, March 15th, 2021
Hamilton Tiger-Cats 53% Hamilton Bulldogs 47%
High Fives 59% Handshakes 41%
John C. Munro Hamilton International Airport 53% Canadian Warplane Heritage Museum 47%
Pub 88% Club 12%